COVID-19: The pandemic is far from over
[ad_1]

These charts and this article are updated every Friday between 1100 and 1300 UTC. Last updated: February 11, 2022. You can always find this article at dw.com/covid19-trend
Wha
t'
s the current 
global trend
?
The goal for all countries is to make it to the blue section of the chart and stay there. Countries and territories in this section have reported no new cases for four weeks in a row.
Currently, that is the case for two out of 188 countries and territories.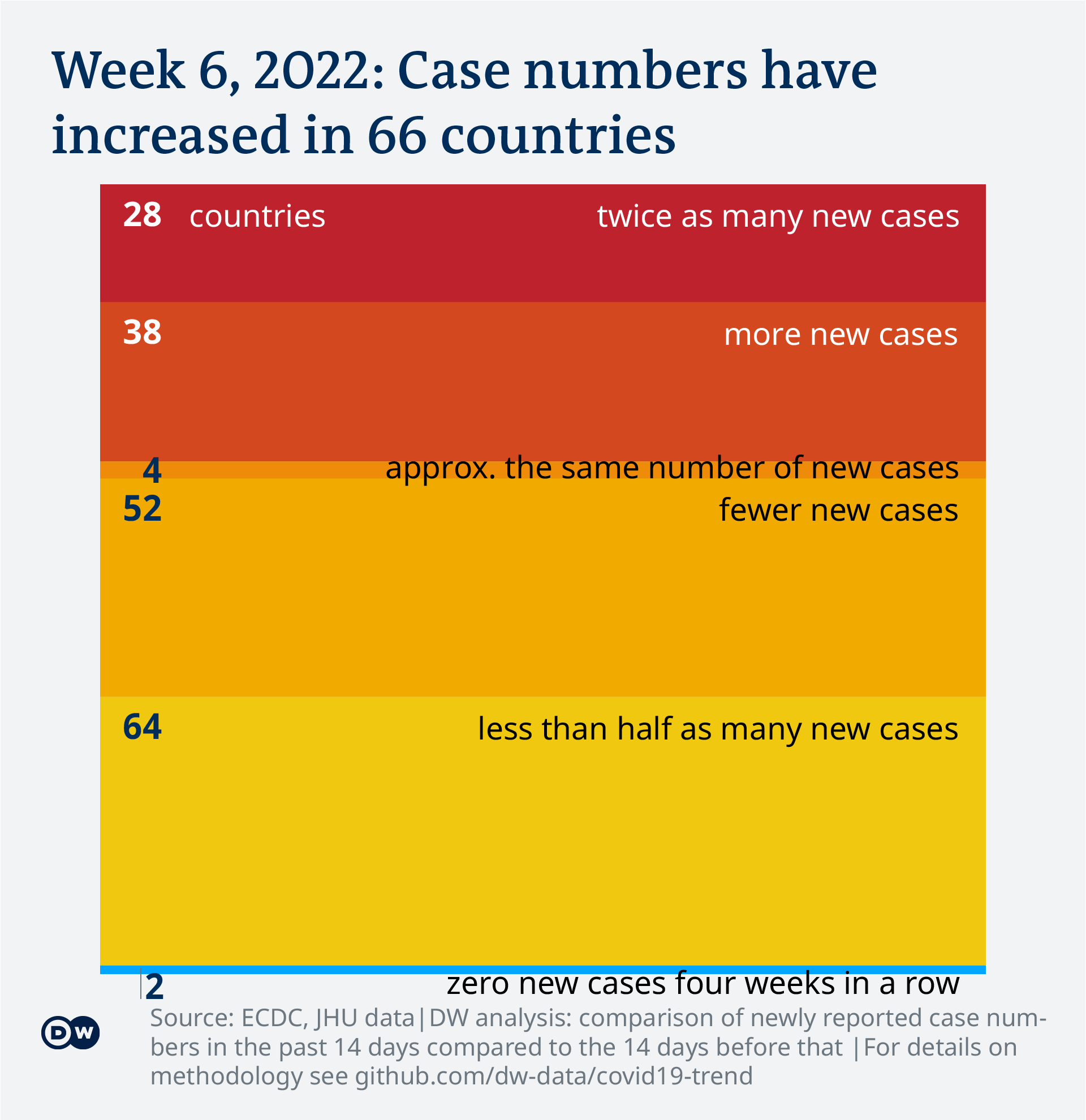 Please note: The number of newly reported cases highly depends on a country's ability to conduct tests and its strategy for administering tests. Additionally, some countries have been criticized for not accurately reporting case numbers.
How has the
COVID-19

trend evolved over the past weeks?

The situation improved further: 66 countries have reported more cases in the past two weeks compared with the previous 14 days.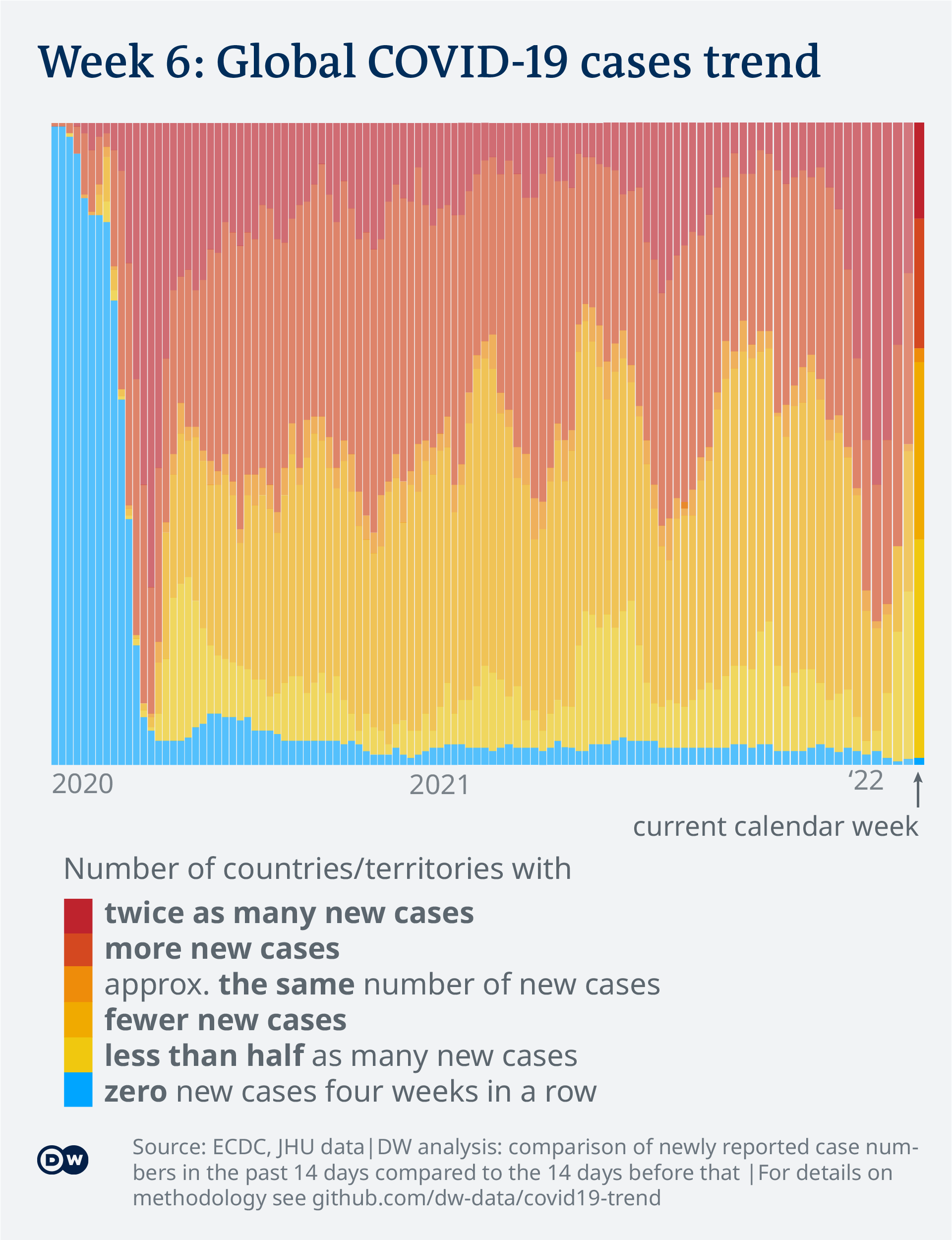 Wh
at is the current COVID-19 trend in my country?
Based on the newly reported case numbers — which can reflect local outbreaks as well as nationwide spread — in the past 28 days, countries and territories classify as follows: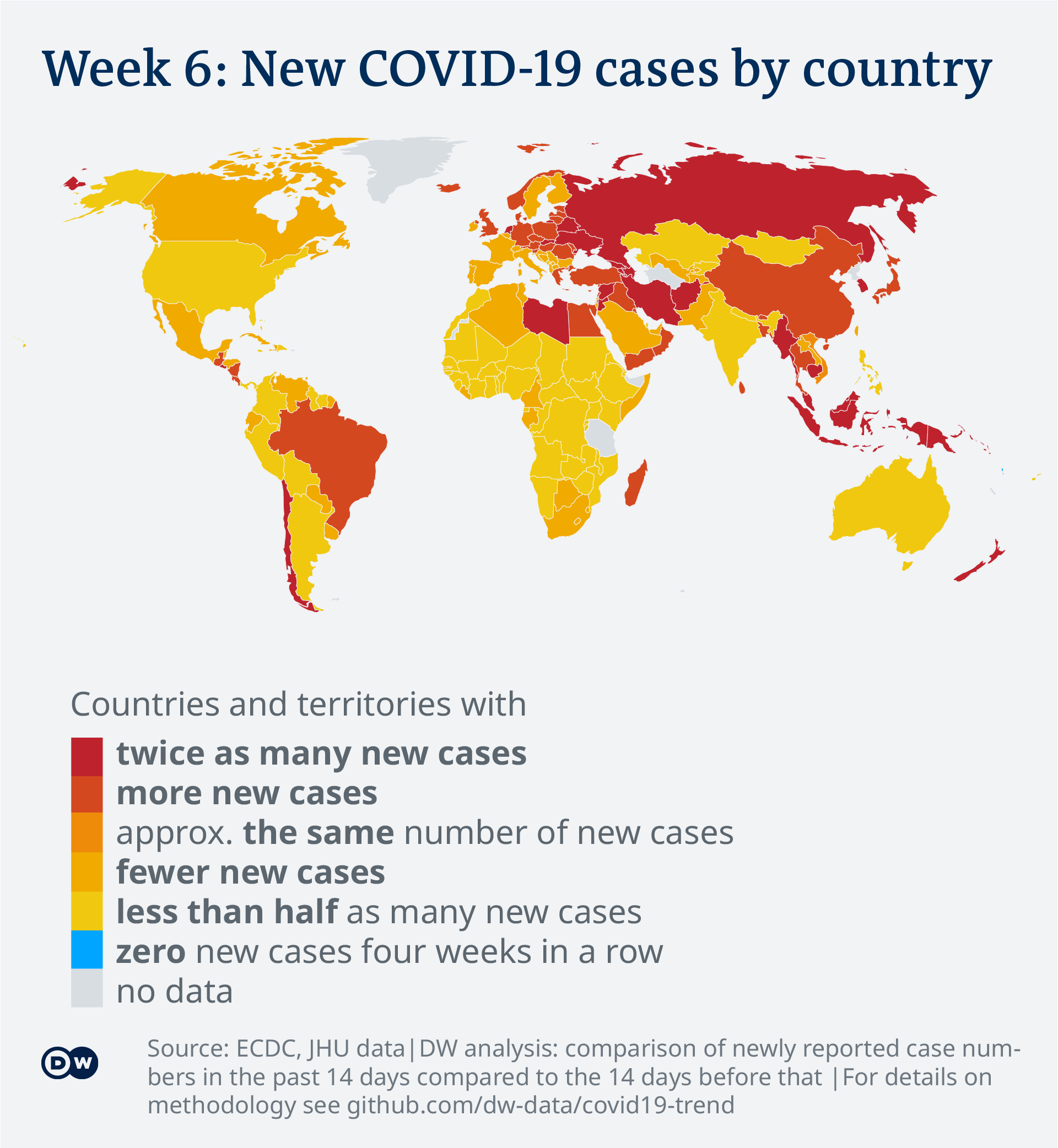 More than twice as many new cases:
Asia: Afghanistan, Armenia, Azerbaijan, Bahrain, Brunei Darussalam, Myanmar, Cambodia, Georgia, Indonesia, Iran, Jordan, South Korea, Malaysia, Singapore, Syria, Timor Leste, Palestinian territories
Africa: Libya
Americas: Chile, El Salvador
Europe: Belarus, Netherlands, Russia, Slovakia, Ukraine
Oceania: New Zealand, Papua New Guinea, Solomon Islands
More new cases:
Asia: Bangladesh, Bhutan, China, Cyprus, Iraq, Japan, Kuwait, Lebanon, Oman, Sri Lanka, Thailand, Turkey, Yemen
Africa: Comoros, Egypt, Madagascar
Americas: Brazil, Costa Rica, Dominica, Guatemala, Nicaragua
Europe: Austria, Czech Republic, Denmark, Estonia, Germany, Greece, Hungary, Iceland, Latvia, Liechtenstein, Lithuania, Moldova, Norway, Poland, Romania, Slovenia, United Kingdom
About the same number of new cases (no change or plus/minus 2%):
Asia: Maldives, Vietnam
Americas: Barbados, Saint Vincent and the Grenadines
Fewer new cases:
Asia: Israel, Laos, Pakistan, Saudi Arabia, Taiwan, Tajikistan, United Arab Emirates, Uzbekistan
Africa: Algeria, Botswana, Cameroon, Eswatini, Gabon, Gambia, Lesotho, Liberia, Somalia, South Africa, Tunisia
Americas: Antigua and Barbuda, Belize, Canada, Cuba, Ecuador, Haiti, Honduras, Mexico, Paraguay, Trinidad and Tobago, Uruguay, Venezuela
Europe: Albania, Belgium, Bosnia and Herzegovina, Bulgaria, Croatia, Finland, France, Vatican, Ireland, Italy, Kosovo, Luxembourg, Malta, Monaco, North Macedonia, Portugal, San Marino, Serbia, Spain, Sweden, Switzerland
Less than half as many new cases:
Asia: India, Kazakhstan, Kyrgyzstan, Mongolia, Nepal, Philippines, Qatar
Africa: Angola, Benin, Burkina Faso, Burundi, Cape Verde, Central African Republic, Chad, Congo, Democratic Republic of the Congo, Ivory Coast, Djibouti, Equatorial Guinea, Eritrea, Ethiopia, Ghana, Guinea, Guinea Bissau, Kenya, Malawi, Mali, Mauritania, Mauritius, Morocco, Mozambique, Namibia, Niger, Nigeria, Rwanda, Sao Tome and Principe, Senegal, Seychelles, Sierra Leone, South Sudan, Sudan, Togo, Uganda, Zambia, Zimbabwe
Americas: Argentina, Bahamas, Bolivia, Colombia, Dominican Republic, Grenada, Guyana, Jamaica, Panama, Peru, Saint Kitts and Nevis, Saint Lucia, Suriname, United States of America
Europe: Andorra, Montenegro Oceania: Australia, Fiji, Samoa
Zero new cases:
Oceania: Marshall Islands, Vanuatu
If you have questions regarding the analysis, please refer to the project's GitHub repository for code and methodology. For feedback regarding the charts, please contact: data-team@dw.com 
The charts in this article were inspired by the work of Lisa Charlotte Muth.


[ad_2]
Indian lunar orbiter hit by heat rise
[ad_1]

NEW DELHI, India (CNN) — Scientists have switched off several on-board instruments to halt rising temperatures inside India's first unmanned lunar spacecraft.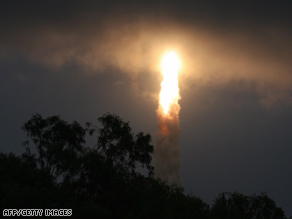 The spacecraft carrying India's first lunar probe, Chandrayaan-1, lifts off from Sriharikota.
Mylswamy Annadurai, the project director for the lunar mission, told CNN that temperatures onboard Chandrayaan-1 had risen to 49 degrees Celsius (120 degrees Fahrenheit).
The increase occurred as the craft, the moon — which it is orbiting — and the sun lined up, a phenomenon which Annadurai said was not unexpected and which would likely last until the end of December.
"We have switched off the systems (aboard) that are not needed to be on," Annadurai said, ruling out the possibility of damage and adding that the temperature was now down to 40 degrees Celsius (104 degrees Fahrenheit).
Heat on board the Chandrayaan-1 should not exceed 50 degrees Celsius (122 degrees Fahrenheit), Annadurai said — but insisted the orbiter is designed to withstand up to 60 degrees Celsius (140 degrees Fahrenheit).
The Chandrayaan-1 — Chandrayaan means "moon craft" in Sanskrit — was successfully launched from southern India on October 22.

Watch the launch of India's first lunar mission »
Its two-year mission is to take high-resolution, three-dimensional images of the moon's surface, especially the permanently shadowed polar regions. It also will search for evidence of water or ice and attempt to identify the chemical composition of certain lunar rocks, the group said.
Earlier this month the Moon Impact Probe detached from Chandrayaan-1 and successfully crash-landed on the moon's surface.
Officials say that the TV-size probe, which is adorned with a painting of the Indian flag, hit the moon's surface at a speed of 5,760 kilometers per hour (3,579 mph).
It transmitted data to Chandrayaan-1 ahead of impact but was not intended to be retrieved after that.
Chandrayaan-1 is carrying payloads from the United States, the European Union and Bulgaria. India plans to share the data from the mission with other programs, including NASA.

All About India • NASA
[ad_2]
Inspiration for 'Contact' still listening
[ad_1]

From a remote valley in Northern California, Jill Tarter is listening to the universe.

[ad_2]
Shuttle lands at California air base
[ad_1]

(CNN) — Space shuttle Endeavour landed safely Sunday afternoon at California's Edwards Air Force Base after NASA waved off two opportunities for a Florida landing because of poor weather.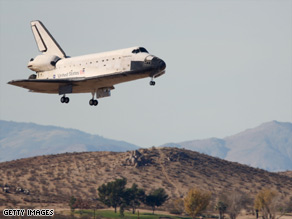 Endeavour glides in for a landing Sunday at California's Edwards Air Force Base.
The shuttle, steered by commander Christopher Ferguson, landed at 1:25 p.m., ending a mission that lasted more than two weeks.
Wind, rain and reports of thunderstorms within 30 miles of the shuttle landing facility at Florida's Kennedy Space Center prompted NASA to cancel the landing attempts there. Those had been scheduled for 1:19 p.m. and 2:54 p.m. ET.
After determining Monday's weather forecast at Kennedy Space Center was equally unpromising, flight controllers decided they would try to land the shuttle and its seven astronauts at Edwards AFB, about 100 miles from Los Angeles, California, where Sunday's forecast was sunny.
Flight controllers prefer landings at Kennedy Space Center because of cost and schedule. NASA has estimated it costs about $1.7 million to bring a shuttle home to Kennedy Space Center from California.

Watch Endeavour's Sunday landing in California »
It also takes at least a week to get the shuttle ready for the trip, but schedule is not a major factor for the Endeavour; it is not scheduled to fly again until May.
Endeavour's 15-day mission to the international space station began on November 14 and included four spacewalks.
During that time, the crew brought key pieces — including exercise equipment, more sleeping berths and a urine recycling system — for a project to double the capacity of the station from three in-house astronauts to six.
The recycling system was installed to turn urine and sweat from the astronauts into drinking water.
Other modules are scheduled to arrive on a February shuttle flight. The goal of expanding the station's capacity to six astronauts is expected to be reached by the summer.
The crew also worked on a joint that helps generate power for the space station. Heidemarie Stefanyshyn-Piper and Steve Bowen spent hours cleaning and lubricating the Solar Alpha Rotary Joint, which is designed to allow the solar panels on the left side of the station to rotate and track the sun.
The astronauts also removed and replaced several trundle bearing assemblies.
The mission went according to plan, despite a minor interruption on the first spacewalk when a grease gun in Stefanyshyn-Piper tool's bag leaked, coating everything inside with a film of lubricant. While she was trying to clean it up, the bag — with $100,000 in tools — floated away.

CNN's Kate Tobin and Miles O'Brien contributed to this report.
All About Space Shuttle Endeavour • NASA • Kennedy Space Center
[ad_2]